Study after study proves that remote work is the evolution of the workplace that is needed now more than ever. Remote work has been embraced by technology companies, yet it might come as a shock to some of the CRE industry professionals, especially those in the CRE lending, which has traditionally been an in-the-office-on-the-desktop-done business.
COVID-19 pandemic is forcing us to embrace social distancing as people, but as professionals, we need to find a way that will not impact our bottom line or the markets at large. Pandemics or regular flu seasons, taking care of kids and many other interruptions of our in-the-office way of work are here to stay. Having a remote work strategy will help companies become more effective, efficient, and competitive and attract the best talent.
We do see that disaster preparedness and continuity are becoming a regular discussion in the executive suite. An ability to continue operations seamlessly regardless of unforeseen events is seen by companies and teams as a critical competitive advantage. Yet, many enter the current crisis still ill-prepared. This is why we are seeing an explosion of interest in collaborative workflow tools from CRE brokers and lenders in the last week.
The chart below illustrates the growth in the number of companies signing up for our services in the first few days of March. Those companies are embracing RealAtom collaborative workflow tools as an opportunity to build for the future in order to stay organized and inter-connected.
For both lenders and mortgage brokers having RealAtom as a centralized platform to share information within the loan application process greatly expedites their ability to achieve optimal financing execution for their clients.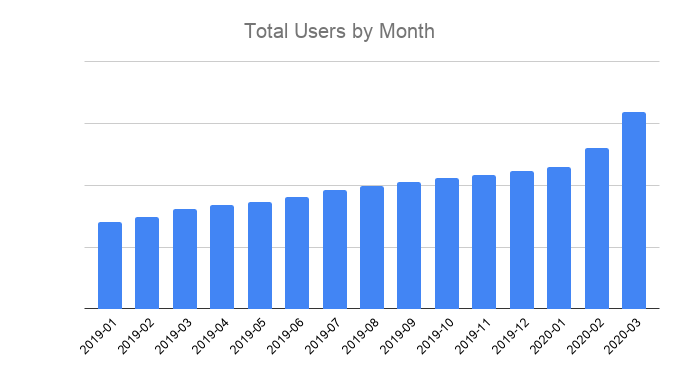 With isolation guidelines in place, these advantages are greatly magnified. One of our users said that:
"Without this platform, I would have severe limitations and would be forced to share all information with those parties in an inefficient bespoke manner."
We are in a traditional industry and it is often difficult for brokers or lenders to execute deals when they're not in the office with their support staff. While RealAtom could ameliorate most of those pains, we believe that having a robust technology stack will be critical for any teams that want to excel in remote collaboration.
We asked our CTO Masha Sharma to share practices that we use to run RealAtom remote teams.
Masha says: Operating remotely is easy with the right tools, mindset, and approach. Let's look at the tools that I've used personally and with my companies to successfully manage a remote team:
Communication Tools
Workflow Tools
Collaboration Tools
Project Management Tools
All the tools I've listed here my team is using to streamline our work process. We have actually built RealAtom specifically to bring those tools capabilities into commercial real estate lending. Yet, we all know "Tools are only as good as the people that use them".
To get people to use the tools you will need to create a culture of accountability. At RealAtom we practice lean-agile principles with both, product development teams and business teams. To make sure we stay on the mission we run 2 scrum meetings per day. Scrum is a quick 15 min meeting that is held at the same time each day. In the morning we discuss the plans for the day and identify any needs or impediments that others can help us with. The evening scrum is to discuss what was accomplished in the day. To run an effective meeting, it's helpful to have your task list or project management software visible. It is critical for your team to see the work that's been finished and what is taking longer than estimated. The purpose of this meeting is not to report back to the manager or team lead, rather it is to collaborate with the team. To make these meetings valuable to everyone, team members should only discuss activities that are valuable to the other team members in the meeting, not individual tasks. Individual tasks feed into a common goal, KPI, or OKR- and should be discussed from that perspective.
What's our #1 tip for effective remote work?
For employees – Over Communicate and ensure your team stays in touch with each other, way beyond what's needed to get the job done. You want a conversation flowing back and forth, you want ideas flowing, a lively exchange of feedback and questions.
For managers – Use Data and gain certainty with the data and analytics on tasks, and team performance at your fingertips.
RealAtom is an all-in-one workflow collaboration platform that lets companies place debt seamlessly while staying connected with lenders and with each other.
We provide all the practical tools remote brokers and lenders need to manage a CRE debt transaction at the touch of a button. Reach out for the demo.