Since launching custom fields to our beta users, we've been amazed by all the unique ways our customers have used this feature to create loan requests for complex projects. 
From detailing construction projects to bringing loan requests to market 3x faster, custom fields make it easy to create loan requests with the details that are most critical to your client when showcasing the package to lenders. 
What makes this feature even more useful, is that you have the flexibility to add custom fields and even create custom folders for documents — so that your package is organized in whatever way makes sense for you and your team.
RealAtom Tip: Add custom fields to a single loan request for a one-off complex transaction.
What are the custom fields?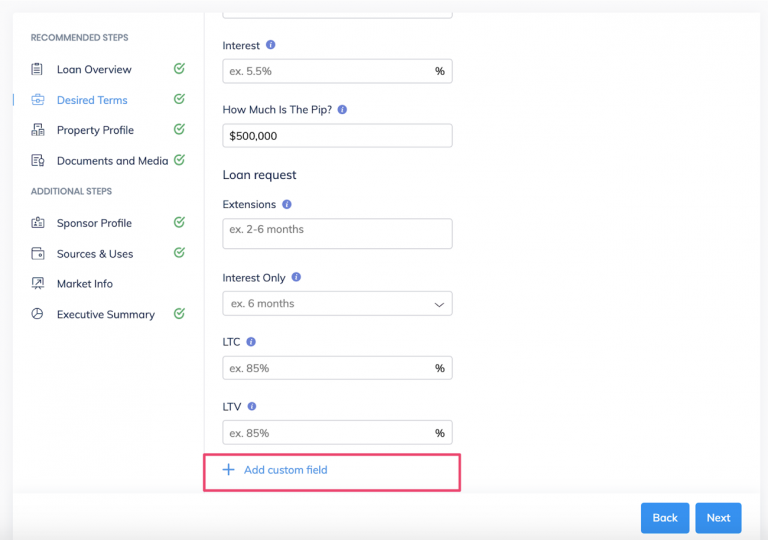 Custom fields allow you to add virtually any type of structure into your loan request. You can add fields to support specific requested terms or describe a characteristic of the property profile, to tailor the loan request to fit any need, especially for those complex projects.
How do custom fields work?
Start by navigating to one of the following loan request sections: Desired Terms or Property Profile 

Click  the "+ Add custom field"  button at the bottom of the section

Type in a label for your custom field

Type in a value for your custom field
What are custom folders?
You've always had the ability to organize your documents in the Document section of the loan request into preset folders.  Now you can create new Custom folders that will allow you to add your own structure of the documents to any loan request. You can add as many folders as you need and upload an unlimited number of documents into them.
How do custom folders work?
Adding custom folders to your loan request is easy and can be done in a few simple clicks.
Start by navigating to the document section 

At the bottom of the page click "+ Add new folder" 

Give your folder a name 

Click "Submit"

Upload documents into the folder
How to protect folder access?
Configuring folders to have private access will require lenders to sign a confidentiality agreement. Learn about the confidentiality agreement feature here.