The dashboard is your command center. It has 3 main sections: Portfolio summary on the top, your loan pipeline on the right and recent activities (your things to do) on the left. For your convenience, we have added filters to Current activities to help you quickly find the activity you want to focus on.
Recent activities can be filtered by the following types:
New – any activity that you received and have not seen after the last time you logged in to your dashboard.
Offer – this is all notifications related to offers (quotes) and counteroffers from the lenders.  If your team member is negotiating quotes on your deals, you will get "offer" notifications as well.
Term Sheet – New term sheets uploaded by a lender
Question – any new questions from lenders. Perk: you can answer directly inside the notification.
Document Request – any new document requests from lenders live here.  Perk: You can respond to them directly from the notification.
Hidden – any notifications which you have removed can be returned by selecting "hidden".
Keep in mind that all of these are also being sent via notifications to your email and mobile phone.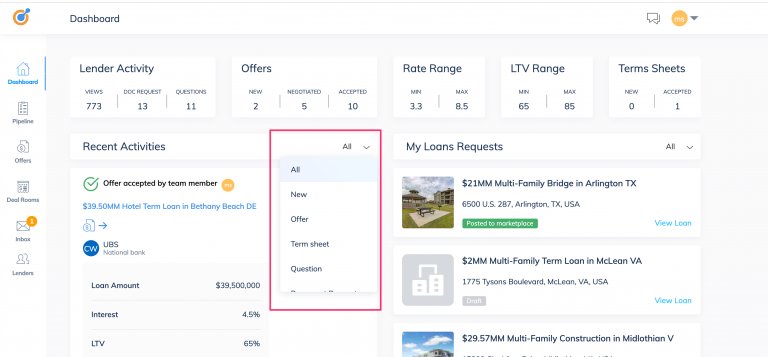 Get started with RealAtom's newest features
If you're ready to review new features, log in to your account and get started. Or if you're new to RealAtom, talk to our Sales team and see how you can streamline your CRE loan portfolio and process.