RealAtom already enables brokers to receive lender quotes in a matrix view online, but what if some of your lenders emailed you a quote and you want to include it in the matrix with the other quotes?  No problem! You can now log in offline lender quotes into your centralized loan automation platform. Why would you do that? For the data and analytics of course! Imagine, being able to generate the most comprehensive quote matrix to retain the quotes for historic analytics and reporting down the road?  When your team starts logging in offline quotes on top of those lenders generated through the system you will get access to unprecedented market analytics.  You can then easily tap into the stream of lender quotes for any geography, property type, or loan type that any office within your company has worked on.
How to add an offline quote to the rate matrix? 
Start by navigating to the Offers page of your loan request  

Click "Add Quote" button

Select if you are adding a quote for a new lender or an existing lender that's already in your capital sources. 

Enter the quote and click "Submit". It's that easy!
RealAtom tip: when adding a quote for a new lender, this lender will automatically get an invitation to join your network and be part of your capital sources directory.  Any offline quote will also display in your lender activity feed so that all of your interactions with lenders are organized for you.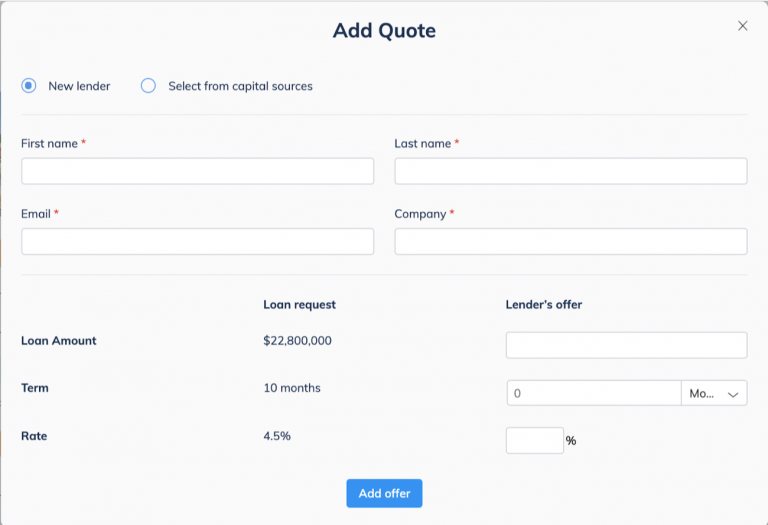 What information do I need in order to add an offline quote?
Note that not all of this information is required for a comprehensive quote. However, as they say, garbage in garbage out. If you do not enter enough information about the quote, you will not get accurate market analytics down the road. 
Some of the information you will need is below: 
Lender info (name and contact for a new lender, or just select a name for an existing lender)

Loan Amount

Term

Rate

Index, Spread

What kind of rate is it? Fixed or variable

Amortization

LTV/LTC

Recourse
Ready to fully automate your rate matrix generation?  Log in to your account and get started.  Or if you're new to RealAtom, register and begin creating your loan request to submit to lenders directly while enjoying data retention and analytics.