In June we announced our easy-to-use, efficient and functional pipeline reports.  Since then we have received very positive feedback from our users.
This month we have enhanced the pipeline with new features including: the ability to assign deals, to close deals, to filter the pipeline by dates. We also added more actionable data into exportable pipeline report.
Let's talk about assigning the deal to a different team member.  When you want to assign the deal to a team member, you can now do it directly from your pipeline.  To do that simply click the "…" in the top right corner of the loan tile and select "Assign to a team member" option.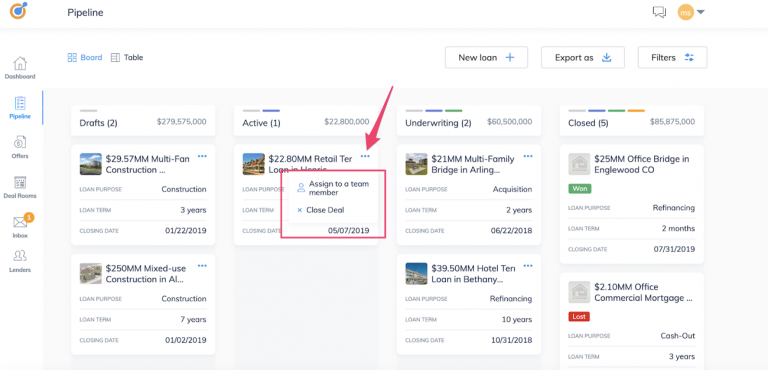 Next, pick the team member you want to assign the loan to, and bingo it's that easy. Now, that new team member is the lead on the deal.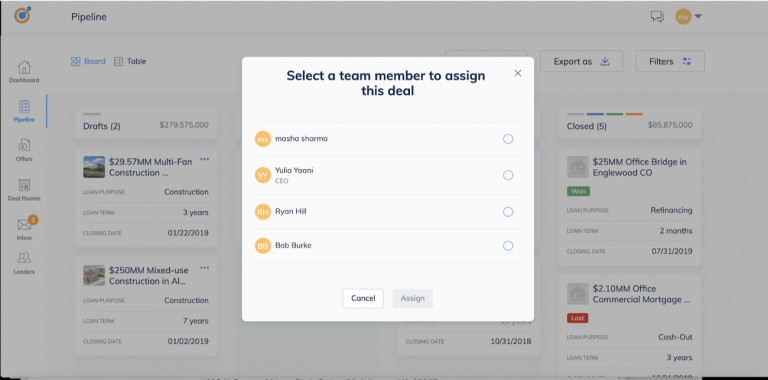 And now, whenever you want to review or export a pipeline report for a particular team member, simply filter for that name to get the results.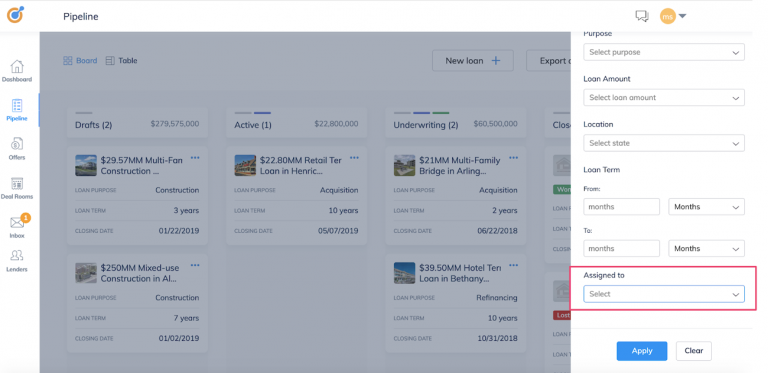 Note that we have added a few extra data points to the pipeline report export to help you slice and dice your data in any way you need to.  
The report contains the following fields: 
Producer name (new) 

Loan name 

Loan amount

Date draft was created (new)

Date loan was published (new) 

Desired closing date

Date of last activity (new) 

Loan status

Days in the current status

# of lenders (matched and/or invited) 

# of Lender views

# of lender questions

# of quotes

IO range

LTV range

Amortization range

Rate range

# of term sheets

Last loan note (new)
Loan notes were discussed in a previous blog post. But what that article did not mention is that we build everything in the RealAtom tradition of delivering process efficiencies and removing redundancies.  One of the optimizations is an ability to close a loan and automatically write in closing notes into the loan notes. Let's discuss this in more detail.
In order to grow your revenue, you have to know where and why you have waste. Yet, not many companies analyze why a lot of loans are lost.  This is mostly because debt brokers do not have the right tools to track and analyze the close/lost ratio and loan cycle from applications to term-sheets to closing.  RealAtom is out to help you change this inefficiency. Study of lost deals over time can help to improve your growth by allowing you to focus on what works. How? By understanding what went wrong and adapting.
Maybe borrower did not win control of the property he was acquiring, or perhaps he/she refinanced with an existing lender.  When this happens, there is no need for the loan package to be sitting dormant in your pipeline. Click "…" in the top right corner of the loan tile and choose "Close Deal" , then click "Deal is closed lost" and type the reason.   The tool will automatically create a note on the loan with the closing reason you specified.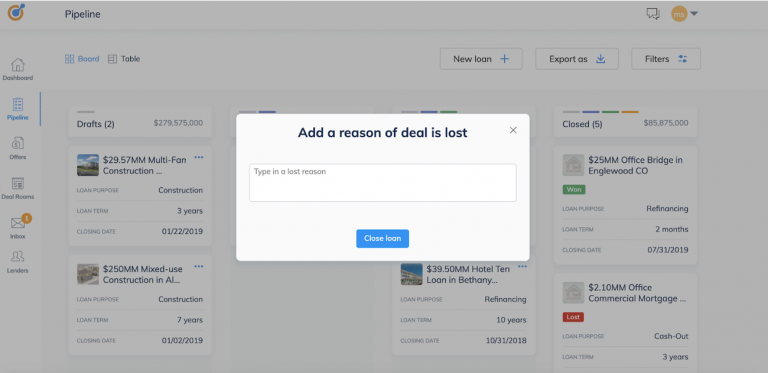 A similar feature helps you track your winning deals. We give you a place to record the terms of the deal and the name of the lender who financed it.  This information is invaluable when it comes to reporting, sizing the market or choosing lenders to work with in the future. 
Click on the "…" again, and choose "Close Deal", then "Deal is closed won" and enter the closing terms.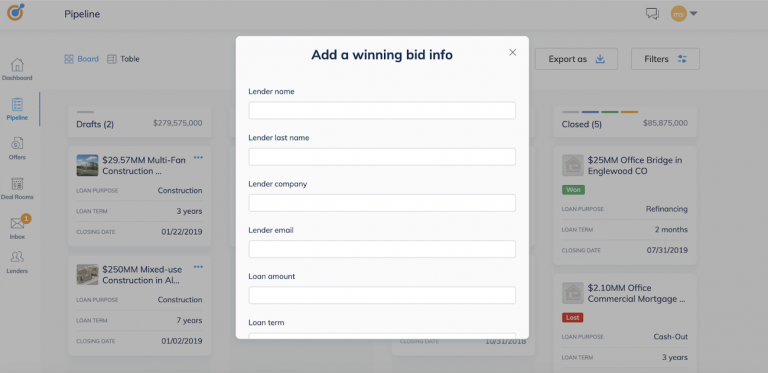 Whether you are closing the loan because you won the deal or lost; loan notes will automatically be updated with the information you entered while closing the deal.