We are always looking to improve the user experience, and with our new "Switch Accounts" feature, you can now see what your team members are up to. As a user, you will be able to see how the dashboard and pipeline look like for the entire team or individual team members.  This is a great feature for teams that aim to achieve operational excellence.  
By default when you first log in you will see the entire team's account which would include all the loans, lender activity, and notifications.  To switch to your own account or to view as any other team members follow the steps below. This is a great feature for teams where managers need to gain visibility into operational activity and metrics. 
How to enable account switch
Start by clicking on your name icon in the top right corner of the page

Choose "Switch to" in the drop-down menu

Select which account you want to view

Start reviewing: dashboard and pipeline as that user. 

Make sure to switch off that account once you are done.
How to tell if you are seeing someone else's pipeline and activity
When you log into your account if you see who you are logged in as.  If you wish to go back to your own view, just click the red X, and choose to view your own account.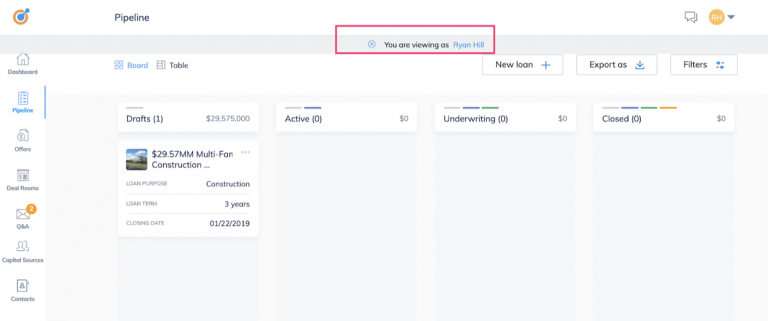 Ready to give the best lender engagement platform a try? Log in to your account and get started.  Or if you're new to RealAtom, register and begin creating your loan request to submit to lenders directly while enjoying data retention and analytics.