Today is Juneteenth. Today we celebrate the end of slavery on this very day back in 1865. At RealAtom, we stand in solidarity with the Black Lives Matter movement and celebrate that day of freedom. As individuals and as a team we understand the importance of support and are ready to raise awareness among our own communities. We were getting updates from many companies making a stance on the BLM movement and that got us thinking why do some companies make a stance while others don't. With that in mind, we wanted to put together for you a list of influencers from the real estate and fintech industries, who are raising awareness for the movement.
Influencers
Anjee Solanki
Anjee Solanki is the National Director Retail Services at Colliers International. She has developed strong relationships and strategic leadership to over 500 + retail professionals nationally across 140 markets within Colliers for Investment Sales, Agency, Retailer Rep, and Retail Asset & Property Management.
Let's continue to honor and create awareness around equality for all. Eliminate judgement, racism and violence. Open your arms to human kindness. #BlackLivesMatter

— Anjee Solanki (@AnjeeSolankiCRE) June 3, 2020
Connect with Anjee on LinkedIn and follow her on Twitter @AnjeeSolankiCRE
Jess Lee
Jess Lee is the Partner at Sequoia Capital and the Co-founder and Janitor at All Raise. All Raise is a non-profit dedicated to diversity in tech.
We must speak up and take action about systemic racism and violence. #BlackLivesMatter If you are a leader and you haven't yet acknowledged what is happening or checked in with your team, here's a post by @MandelaSH about the power of making space: https://t.co/rLPz37ymXG

— All Raise (@AllRaise) May 29, 2020
Connect with Jess on LinkedIn and follow her on Twitter @jesskah
Kelli Dickerson
Kelli Dickerson is the Vice President at BentallGreenOak. She is skilled in Negotiation, Budgeting, Asset Management, Real Estate Economics, and Investment Properties. Tenacious and creative problem solver with a passion for sustainable real estate management and development.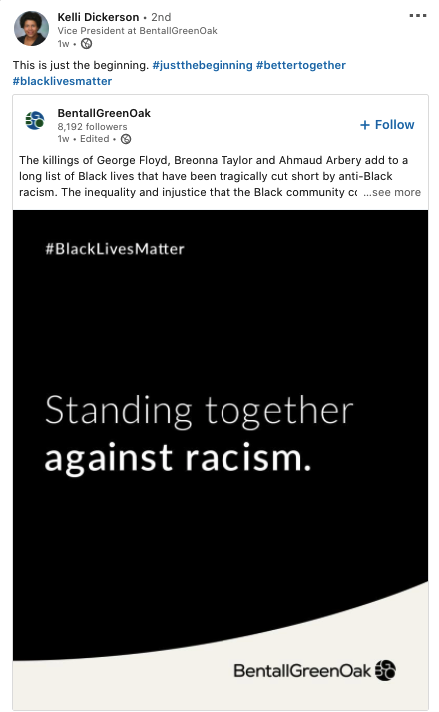 Connect with Kelli on LinkedIn
Marla Blow
Marla Blow is the SVP of Social Impact North America at Mastercard Center for Inclusive Growth. Marla builds strategies, partnerships and programs that advance the Center's priorities to promote financial security; make economic development more inclusive; support the economic mobility of workers, and leverage the power of data for good.
small glimmers of hope… https://t.co/KSTkPH4wYE

— Marla Blow (@Marla_Blow) June 6, 2020
Connect with Marla on LinkedIn and follow her on Twitter @Marla_Blow
Masha Sharma
Masha Sharma has over 20 years of experience building technology products. She has innovated commercial real estate lending by building RealAtom, a SaaS platform for commercial real estate loans.
Dawn Myers: The tech and venture industries must support Black founders 'swiftly and without hesitation' https://t.co/eXQaihgJNN via @TechnicallyDC

— Masha Sharma (@genideva) June 3, 2020
Community protest , people took the knee, spoke up, and now getting ready to march behind a police escort #BLACK_LIVES_MATTER #GeorgeFloydProtests pic.twitter.com/2RFIhzZ0t3

— Masha Sharma (@genideva) May 31, 2020
Connect with Masha on LinkedIn and follow her on Twitter @genideva
Adam L. Stanley
Adam L. Stanley is the Global CIO and Chief Digital Officer at Cushman & Wakefield and is responsible for the technology, data, and innovation strategy for all of Cushman across multiple geographies, markets and service lines.
Ibram X. Kendi, the author of How to be an Antiracist, writes, "The opposite of racist isn't "not racist;" it is "antiracist." What's the difference? One endorses either the idea of a racial hierarchy as a racist, or racial equality as an antiracist."

— Adam L Stanley (@ALSWharton) June 11, 2020
Connect with Adam on LinkedIn and follow him on Twitter @ALSWharton
Connell McGill
Connell McGill has built companies around new ideas and innovative technologies. His goal is to leverage his abilities in entrepreneurship to one day have a tremendous positive impact on the world. Currently, he is the Co-Founder & CEO at Enertiv that streamlines building operations for the largest, most innovative commercial real estate portfolios in the world.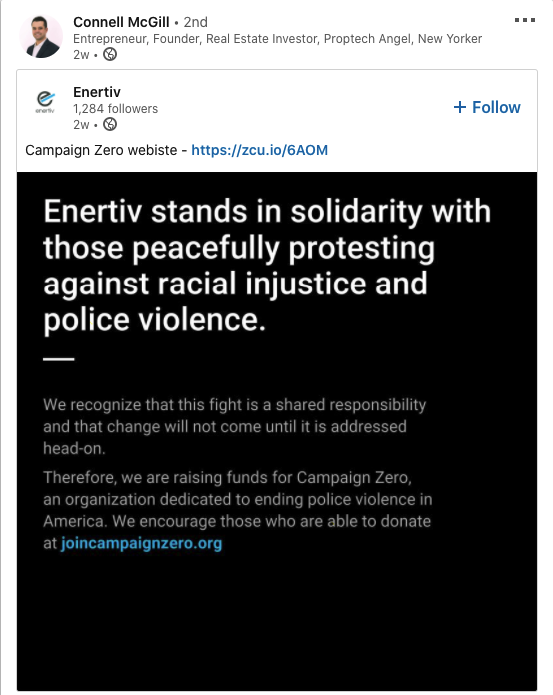 Connect with Connell on LinkedIn and follow him on Twitter @ConnellMcGill
David Goldberg
David Goldberg is a startup-obsessed entrepreneur and investor with diverse skill-set and experience. He has a passion for leading, creating, collaborating, and empowering others to maximize their potential.
Mitt Romney with that sponsored @imperfect_foods post! https://t.co/BSWTusKC0X

— David Goldberg (@davidrgoldberg) June 8, 2020
Connect with David on LinkedIn and follow him on Twitter @davidrgoldberg
Gavin J. Gallagher
Gavin J. Gallagher is a Property Investor, Entrepreneur & Speaker. With an insatiable curiosity, especially in the areas of human behavior, innovation and leadership – he writes, speaks and mentors on the huge role mindset plays in this industry along with psychology and science behind team performance in the workplace.
I never miss an episode of #Pivot – @karaswisher @profgalloway talking about the #BlackLivesMatter protest on today's episode- does this photo not sum it all up? 🤦🏻‍♂️ pic.twitter.com/kc53ef51UE

— Gavin J. Gallagher (@gavinjgallagher) June 2, 2020
Connect with Gavin on LinkedIn and follow him on Twitter @gavinjgallagher
Grant Cardone
Grant Cardone is the CEO at Cardone Capital, which has $1.8 Billion assets under management. He is also the author of eight business books, thirteen best selling business programs, and CEO or partner in seven privately held companies.
Sadden by how this man lost his life.
Minneapolis make this right. pic.twitter.com/sS0RrkmoVu

— Grant Cardone (@GrantCardone) May 28, 2020
Connect with Grant on LinkedIn, follow him on Twitter @GrantCardone, and subscribe his Youtube Channel
Max Levchin
Max Levchin is the Co-Founder & CEO at Affirm, and the Founder & General Partner at SciFi VC. He is starting, building, running companies; recruiting, building, running engineering teams; architecting, building, launching large-scale software products.
.@Affirm was founded on the idea that people come first. We stand with the Black community.

Join me in condemning racism in all forms & declaring solidarity with those affected by hatred daily.

I call on this country's leaders to help address these injustices in our society.

— Max Levchin (@mlevchin) June 1, 2020
Connect with Max on LinkedIn and follow him on Twitter @mlevchin
Companies
Bisnow
Bisnow's mission is to inform, connect, and advance the commercial real estate community to do more business. They aspire to be the most data-driven and humanizing digital media, live events, and intelligence platform in the galaxy — and through this effort, drive the industry to greater heights.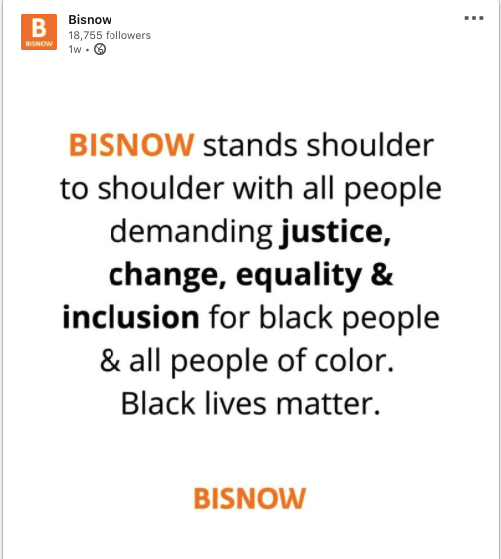 Follow Bisnow on LinkedIn
CBRE
CBRE Group, Inc., a Fortune 500 and S&P 500 company headquartered in Los Angeles, is the world's largest commercial real estate services and investment firm (based on 2017 revenue).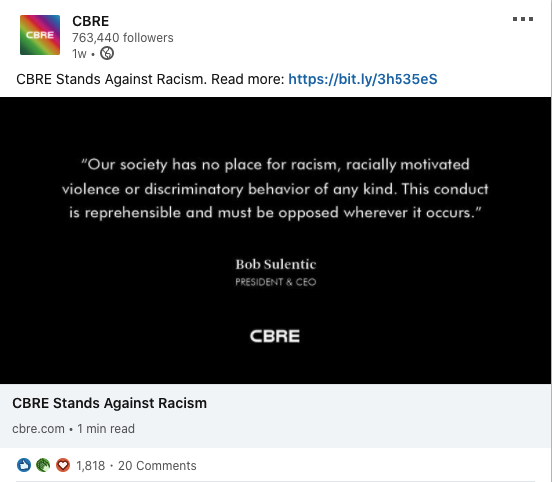 Follow CBRE on LinkedIn
Commercial Observer
Commercial Observer is the leading platform to connect and inform commercial real estate professionals — including building owners and managers, brokers, commercial lenders and professional services firms.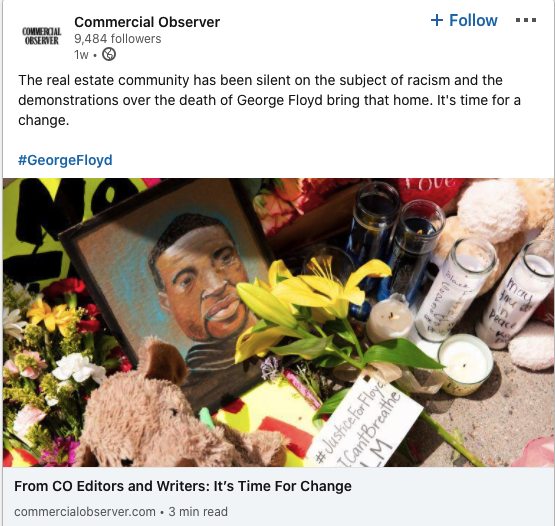 Follow Commercial Observer on LinkedIn
Propmodo
Propmodo helps people understand the changing real estate landscape. They help people make smarter decisions about which technologies to adopt, keeping scalability and adaptability in mind. Propmodo helps people uncover the value propositions of emerging technologies and how they align with the needs of property stakeholders and tenants.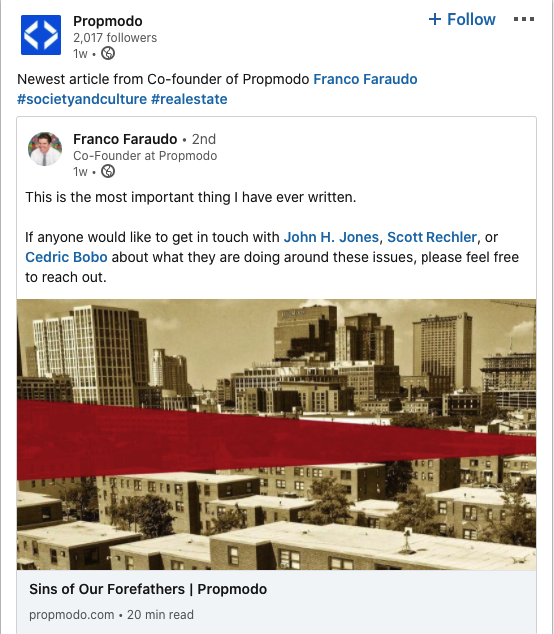 Follow Propmodo on LinkedIn
Reonomy
Reonomy leverages big data, partnerships and machine learning to connect the fragmented, disparate world of commercial real estate. By providing unparalleled access to property intelligence, Reonomy products empower individuals, teams, and companies to unlock insights and discover new opportunities.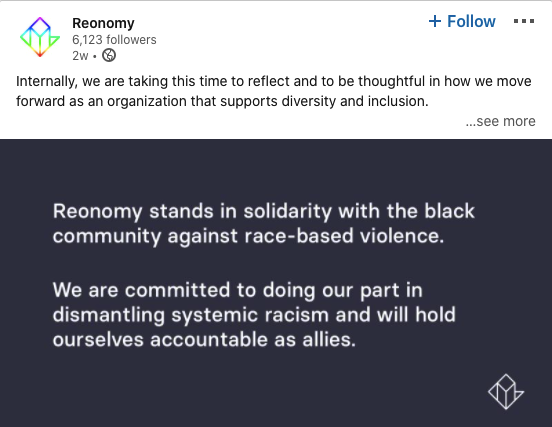 Follow Reonomy on LinkedIn
VTS
VTS is a commercial real estate's leading leasing and asset management platform, bringing together landlords, brokers, and tenants to make deals happen.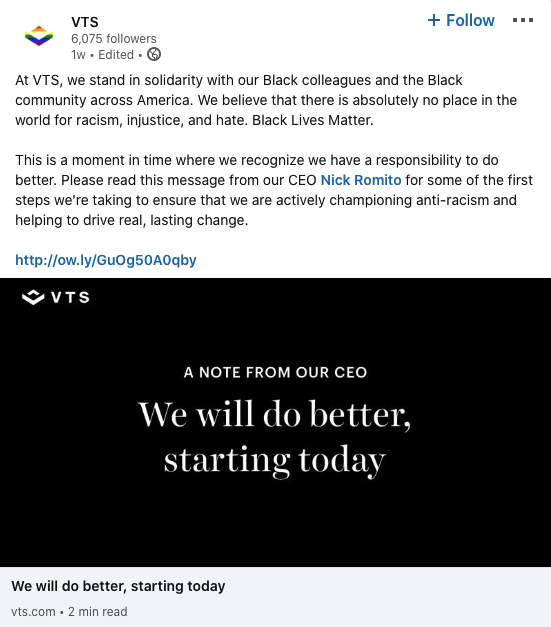 Follow VTS on LinkedIn
WeWork
WeWork is the platform for creators, providing hundreds of thousands of members around the world with space, community, and services that enable them to do what they love and create their life's work.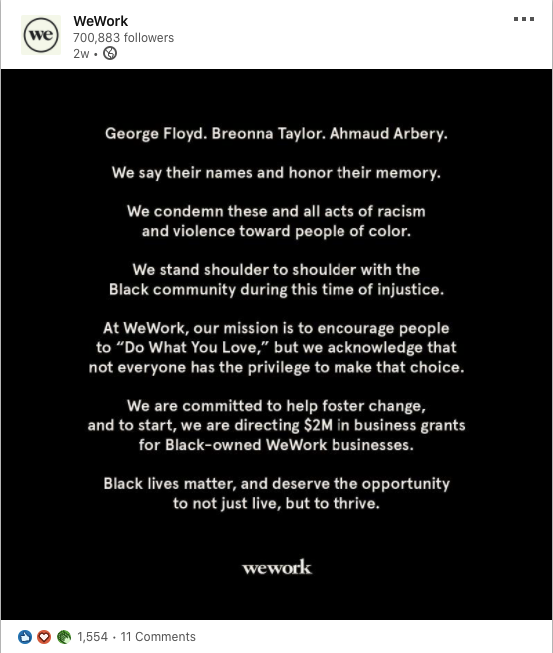 Follow WeWork on LinkedIn