You manage lots of important projects in your portfolio – from evaluating potential acquisitions to refinancing existing properties. You get multiple emails from lenders containing questions, quotes, negotiations, term sheets and everything in between.  You and your teammates diligently try to record all activities in multiple excel spreadsheets, respond to an obscene number of emails, and collect and send documents for underwriting and closing. Try as you might, the work it takes to keep up with your deals can become unmanageable. That's why we've created a way for you to manage all of these tasks in one place. We're excited to announce that now you can see portfolio-level analytics and activity per deal directly on your RealAtom dashboard.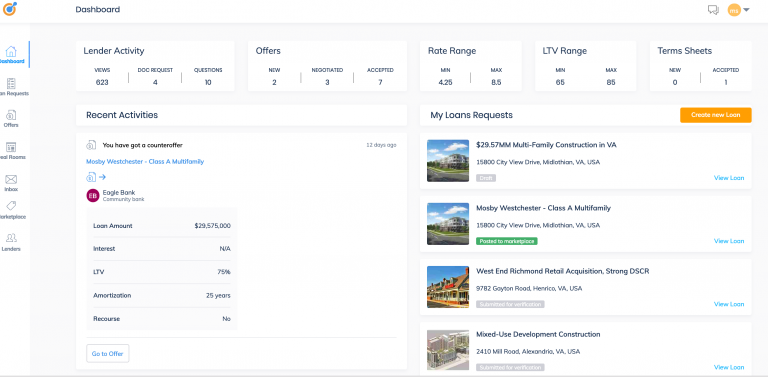 Get the latest information faster
By reviewing your dashboard, you can easily see lenders' most recent activity without having to sort through emails or remember if you responded.  Your personalized dashboard will always contain the most recent action items. We have included the following notifications:
New questions

New document requests

New offers or lender negotiations

New term sheets
Portfolio-level analytics give you groundbreaking intelligence in a single command center interface.  As an operator, you will always know how attractive your projects are from a lender's perspective, what range of terms your projects receive, and this is just the beginning.
We'd love to hear how you're using RealAtom dashboard and what other analytics we can add to make it more helpful. Share with us in the chat!
If you're ready to review your debt portfolio performance, log in to your account and get started. Or if you're new to RealAtom, start your free trial and see how you can get analytics and actionable tasks from your debt pipeline.